BenchMaster 21M
Electronic filter
Easy to use versatile manual electronic filter system, switchable highpass / lowpass gain to x50(+34 dB), interface, signal level indication Short deliveries (depending on demand)
9800:1 cutoff span
Frequency  3 versions
0.1 Hz to 980 Hz
1 Hz to 9 800 Hz
10 Hz to 98 000 Hz
Gain- switchable to x50 (+34

dB

)
Switchable HighPass / LowPass
Signal level indication
Rugged 1 – 9 channel rack
AC or optional DC power
1 channel Mini rack
Very easy to use
Single ended / Differential Inputs
AC / DC / IEPE inputs
Ethernet style interface
Usually in stock
up to 9 Channels in a 19″ Rack

The Kemo BenchMaster 21M is a versatile analogue electronic filter, with simple front panel setting. It is ideal for 'on site' work and general purpose laboratory filtering. The BenchMaster 21M has recently been completely redesigned, incorporating more gain, signal level indication, input overload indication, and it is now available in a wider range of filter responses. Inputs and outputs are front panel BNC connectors. The BenchMaster 21M uses the best quality components and achieves good channel matching and overall filter performance. It is available either as a single channel, stand alone, DC powered unit, or 1 – 9 channels in a rugged metal rack. An external computer interface is available, FICLII simple text commands over Ethernet hardware.
Full Specification
Channels
 1 per card
Control
 Manual Front panel switches / thumbwheel
Optional External control, 10BaseT text based FICL II  interface. (19″ rack only)
Frequency (specified at

Order

)
 0.1 Hz – 980 Hz (3 ranges)
1.0 Hz – 9 800 Hz (3 ranges)
10 Hz – 98 000Hz (3 ranges)
Gain
 x1, x2, x5, x10, x20, x50 (+34dB)
Filters
 Switchable Highpass / Lowpass
Filter Bypass
Yes ( frequency setting 99)
Filter Modifier
Yes Normal and Pulse ( not with all filter responses)
Filter Responses(specified at

Order

)
03, 05 (Butterworths), 07, 09 (Bessels),  37, 41 (general purpose)
Input Coupling
 AC / DC (Matched

AC Coupling

on Differential Input)
Input Mode
Single Ended / Differential (set by on board jumper, but with full control by external interface)
IEPE
 4mA 24V current source
Input Overload Indication
 Indication of absolute input signal overload
Signal Level Indicator
 Single 3 colour, 4 signal level, off / green / yellow / red.
Signal Level
+/- 10V pk-pk (Usually with 'headroom')
Card Size
 2 series 21 slots (100 x 220 Eurocard)
Racks, Size and weight
 21.20 Rack (19″ 3U) – 1 to 9 channels, 420 x 155 x 350mm (16.6×6.1×13.8″)
10 kg (22 lb) maximum.
21.1 Rack – 1 channel, 44 x 116 x 270 mm (1.7 x 4.6 x 10.7″) 1 kg (2.2 lb) maximum
Power
 21.20 (19″ 3U) rack  90 -120 / 180-240 Vac 50/60Hz – Optional DC power
21.1 rack    9 – 30V DC power
Easy Manual Control
The BenchMaster 21M is designed for easy manual operation. The controls are laid out in an easy to understand logical way. All controls are on the laser cut and laser marked front panel.
In most cases the operation of the BenchMaster 21M is intuitive. Some of us at Kemo have been filter users, we have used Kemo products on site late at night cold and tired, so we like to keep things simple.
Filter frequency value set by up/down front panel switches
Frequency range set by front panel switch
'Normal' filter response or modified 'Pulse' filer response
Highpass or Lowpass set by switch
x1, x10 gain switch

x1, x2, x5 gain switch

Signal level indicator

Input coupling and IEPE switch
Input overload and IEPE indicator
Frequency Range 0.1Hz to 98 kHz (in 3 versions)
A BenchMaster 21M filter covers a frequency cutoff span of 9800:1, switchable highpass lowpass filter, three decades with two digit resolution.
Three frequency versions are available, specified at Order, these are:-
| | | | | | |
| --- | --- | --- | --- | --- | --- |
| 0.1Hz – 980Hz | 0.1Hz – 9.8Hz | 1Hz – 98Hz | 10Hz – 980Hz | | |
| 1Hz – 9 800Hz | | 1Hz – 98Hz | 10Hz – 980Hz | 100Hz – 9 800Hz | |
| 10Hz – 98kHz | | | 10Hz – 980Hz | 100Hz – 9 800Hz | 1kHz – 98kHz |
Filter cut-off frequency is set by two digit thumbwheels, and a 3 way decade switch.
Frequency setting '99' is filter bypass.
Frequency setting '00' activates the optional external control.
Lowpass / Highpass
Each channel can be independently set to highpass or lowpass filtering.
Gain and Signal Level Indication
The updated BenchMaster 21M has more gain. Two front panel switches give gain of x1, x2, x5 and x1, x10, operated in combination to give up to x 50 gain (+54dB).
The front panel has a 4 stage signal level indicator, – 0%- off -10% – green – 70% – orange – 95% – red.
An overall input overload indicator shows absolute signal input overloads. These indicators help setting the gain and input stages.
Filter Responses
The BenchMaster 21M has been updated to add the standard range of Kemo filter responses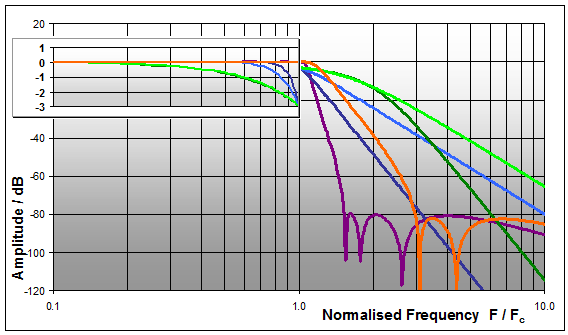 These are:- Butterworth 4 pole (05), and 8 pole (03), Bessel 4 pole (09 ) and 8 pole (07 ),
Sharp anti-Aliasing type, flat to filter cut-off, (13)
General purpose, flat to cut-off, linear phase(41 )
General purpose 6 pole (37), compatible with earlier versions of the BenchMaster 21M ( or VBF 21M)
The filter response is specified at Order, any questions about which one, contact us and we are pleased to advise you.
Pulse Filter Response Modifier
Each channel has a 'pulse' filter modifier setting, this modifies the filter response , optimising it to a minimum Overshoot characteristic, which minimises signal Overshoot for impulse type signals. Note this function does not operate on all filter responses.
Block Diagram of BenchMaster 21M
Optional External Control
BenchMaster 21M filters are fitted with control logic compatible with the Kemo FICLII interface for external computer control.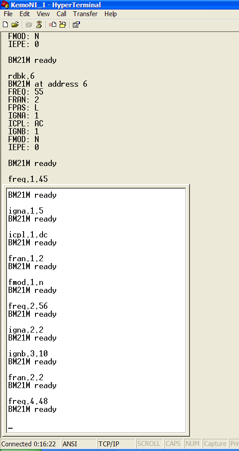 This is a text (ASCII) over a 10BaseT, RJ45 plug, Ethernet style hardware interface. This provides an operating system independent interface. the interface stores current data, verifies incoming commands, and then executes them. BenchMaster 21M filter cards, like other Kemo units, are receive only on the rack control bus. More than one filter card can be set to the same address, they will all execute the same command. So one command can set a group of cards to the same settings.
Simple text commands are used, the screen image shows typical commands sent via HyperTerminal.
igna,3,1 – sets channel 3, input gain block A to x1.
freq,3,92 – sets channel 3, frequency to value 92 ( base frequency x 92)
igna,2,5 – sets channel 2, input gain block A to x5.
imod,2,se – sets channel 2, input mode to Single Ended.
icpl,2,dc – sets channel 2, input coupling to DC.
rdbk,2 reads back all the current settings for channel 2.
The RDBK (readback) command gives a listing of all the commands.
RDBK,A will readback all the settings for all 64 channels.
Typical response time to send commands to one channel and implement the settings is about 200mS. Typical response time to refresh all 64 channels is about 15 seconds.
The interface will accept text files, so complete set up information for multi-channel filter systems can be sent as one file. the RDBK files can be stored as text files, so test setups can be stored for measurement audit purposes. An infinite number of racks may be linked for channel counts above 8. (18 slots in rack, each BenchMaster 21M takes 2 slots, less one for interface card)
Other Features
The BenchMaster 21M uses a laser cut and marked stainless steel front panel. The circuit board is manufactured using the latest surface mount technology. It is even possible to turn off the LED indicators, for use in dark optical laboratories. This latest version is a complete redesign, and one that all the staff at Kemo have contributed to, it is a product we feel proud of, and after over 40 years of building filters one that has considerable expertise built into it.
Optional DC power
9-30V DC input is available as an option for the 21.18 rack.Please check our page about DC Power
For more information please contact us.