VBF44 Electronic Filter
1 Hz – 255 kHz, +60 dB Gain, 5 Built in Filter responses, Top Performance, High Versatility
The VBF44 electronic filter is our top of the range 4 channel laboratory filter, with versatile input stage, gain, and 5 built in filter responses. Operated with Kemo's new Windows interface for PC control, the VBF44 electronic filter is an essential tool for any lab or test facility.
Filter cutoff range 1 Hz – 255 kHz
Gain to +54

dB

5 Built in Filter Responses
2 Lowpass, 2 Highpass, and

Bandpass

135

dB

/Octave filters
Precise channel matching
Manual and computer control
Easy to use
Wide

Dynamic Range

Series and Parallel modes
The Kemo VBF44 electronic filter is a benchtop filter offering unparalleled versatility. It contains 4 precision electronic filter channels. Each channel can be used independently to produce a 4 channel programmable filter/amplifier, or in pairs to produce 2 channels of Bandpass, Bandstop and other composite filters of many kinds. The VBF44 is now built in a compact chassis, stainless steel laser cut panels, push button LCD and menu control and passive ( silent) cooling. Built in series and parallel conection between channels allows a fully variable Bandpass, notch and band stop filters to be configured.
The VBF44 electronic filter is part of the Kemo VBF40 series of filters, also available is the full rack VBF40 for 2-16 channels. Easy to use front panel controls, BNC input/output connectors, and a very versatile set of filter responses make the VBF44 electronic filter a top range laboratory filter.
Summary Specification
Channels
4
Control
Manual LCD and push button
Ethernet FICL II interface
Frequency
DC – 255 kHz (4 ranges)
Bandwidth
> 1 MHz,  1V signal, 0dB gain, highpass filter and filter bypass
Input Gain
 x1, x2 (+6dB), x5 (+14dB), x10 (+20dB), x20 (+26dB), x50 (+34dB), x100(+40dB)
Output Gain
 x1, x2 (+6dB), x5 (+14dB), x10 (+20dB)
Filters
 5 Switchable; 2 Lowpass, 2 Highpass,

Bandpass

, and Filter Bypass
Filter Responses
 L1, L2, H1, H2, B1
Input Coupling
 AC / DC / IEPE (4mA 24V) with 3 stage indicator
Input Mode
Single ended or differential
Signal level
 +/- 10V pk-pk (usually with 'headroom')
Signal Level Indication
4 colour level LED on panel
Size
145 x 482 x 420 (3U 19″ x 16″)
Power
90 -120 / 180-240 Vac 50/60Hz
Frequency Range
Each filter in the VBF44 electronic filter tunes over a frequency range of 1 Hz to 255 kHz in four decade ranges.
1 Hz – 255 Hz,
10 Hz – 2 550 Hz,
100 Hz – 25 500 Hz, and
1 kHz – 255 kHz.
Gain Range
The inputs (differential, switchable to single ended) have gain to x100 (+40 dB) and the output stages, after the filter, provide up to x10 (+20dB). This configuration allows advanced signal optimisation, a signal can be amplified, then have the unwanted parts reduced and then further amplified.
A Flexible Response
Each filter in the VBF44 offers five responses – high slope Elliptic lowpass and highpass, flat passband linear phase lowpass and fast settling highpass, and Bandpass with characteristics similar to 1/3 octave. The filter can also be bypassed and the unit used as a programmable amplifier.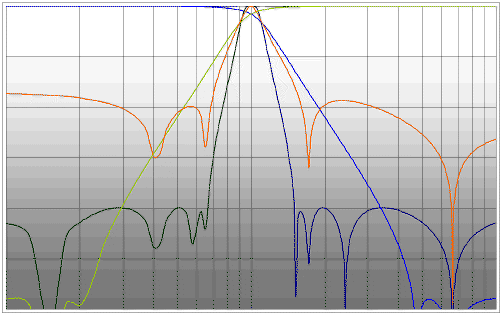 Keeping in Tune
All VBF44 electronic filter parameters are displayed on an LCD screen, control is by 4 illuminated front panel push buttons.
All selections are non-volatile, the unit powers up to the last settings. A FICL II Ethernet type interface is included in the unit, with front panel RJ45 connector. Several tuning methods are provided to simplify the application of the VBF44 in the dual 2 channel mode. Cutoff frequencies can be 'locked together' once the desired composite filter shape has been set. Subsequent adjustment of the reference channel cutoff frequency will cause the other channel to retune automatically to preserve the selected response shape. This is called 'tracking' mode and is invaluable for tuneable Bandpass and Bandstop filters. In 'stereo' mode the instrument sets two identical composite channels, useful for audio signals and quadrature baseband signals in image processing, SONAR, and Doppler studies. These modes can be used manually and through the computer interfaces.
Easy Connections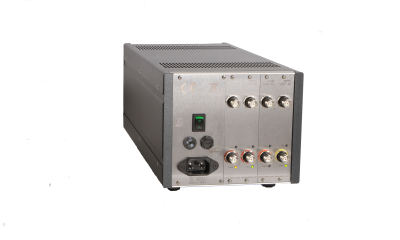 The VBF44 electronic filter is easy to use and connect to, all 4 channel connectors are available on the laser cut and marked rear panel.
Related Systems
The VBF44 is part of a range of filters.
The VBF40 is a 19″ rack for 1-16 channels of VBF40 series filters.
For more information contact us.